Chemistry In Life Fourty-seventh Edition

Hello. Welcome back to Chemistry in Life.
Take a seat, and enjoy your muffin.
ANOTHER VIEW OF MYU-CHAN
*Indonesian mode ON*
1 Oktober 2007
Nonton Liga Italia, dan melihat mereka semua pakai pita merah..
Rupanya dukungan anti junta militer di Myanmar meluas sampai ke dunia olahraga..
Yah, orang Myanmar (baca: junta militer Myanmar) itu memang brengsek. Myu ga melihat apapun yang baik dari mereka.. Kalau mereka punya pandangan lain, kenapa ga terbuka aja? Kenapa pake nembakin orang? Bleh. Kutu kupret bin kurang asem bin durjana!
Rasain deh, sekarang udah berapa negara, berapa ratus ribu orang yang melawan kalian..?Berapa banyak orang yang mendukung rakyat Myanmar dan Aung San Suu Kyi? Terus aja kaya gitu, tar beneran deh, Myanmar terasingkan.. --;
Oh, well... Yang namanya pemerintahan di bawah militer memang ga pernah beres. Darurat Militer di Aceh dulu juga begitu, kan?
2 Oktober 2007
Siap-siap untuk NaNoWriMo!
Pendaftaran udah dibuka sekarang, di
sini
...
*ngeloyor cari ide*
~*~*~*~*~*~*~*~*~*~*~*~*~*~
Menemukan mainan bagus di
sini
dan di
sini
juga... Hasil dari keisengan meng-klik link games di web-nya
Make Roads Safe
Ngomong-ngomong, jadi ingat ide tentang mengundang Michael Schumacher kampanye Make Roads Safe ke Indonesia....
Serius nih, apalagi setelah melihat laporan mereka. Tingkat kecelakaan di negara-negara Asia Tenggara itu cukup besar, dan perkiraan perubahan angka kematian akibat traffic lalu lintas dari tahun 2000 hingga 2020 cukup mengerikan (peningkatan 144%, dari data tahun 2003)...
Nah, gimana? Setuju?
Catatan: Daddy Schuey adalah anggota Commission for Global Road Safety...
Jadi, anak-anak, dan juga bapak-bapak, dan juga.. ibu-ibu.. Hati-hati kalau mengemudi. Jangan ngebut di jalan. Jangan minum. Kalau ga, tanggung sendiri akibatnya.
Dan.. Jangan parkir sembarangan juga. Nyebrang jalan juga jangan sembarangan..
Tapi, eh, tapi~ kalau mau nyebrang di
zebra cross
pas lampu merah aja masih di-klakson-in sama orang yang mau parkir di situ (TEPAT di zebra cross!), gimana bisaaaaaa~? *grumbles*
Yah, itu pengalaman saya, nak. Jadi jangan heran kalau saya ngomel-ngomel tiap kali mau nyebrang jalan, dan/atau jalanan ramai..
6 Oktober 2007
Sara sudah dua minggu lebih hilang..
Duh, rindu~
Kenapa sih Sara ga mau pulang..?
~*~*~*~*~*~*~*~*~*~*~*~*~*~
Perfect! Almost.
Yah, tadinya berharap hari ini sempurna untuk Kimi.. Dominasi sepanjang latihan dan dua sesi pertama kualifikasi. Tapi, well, start dari posisi kedua cukup bagus juga.
C'mon, Kimster! Beat him!
O ya, hasil kualifikasi: Akang, Kimi, Felipe, Abang. Err.. lainnya lupa. Pokoknya ada Toyota sama Honda di sepuluh besar, itu aja.
Btw, rasanya hari ini tetap 'sempurna'.
Fastest lap
hari ini masih tetap Kimi! Yay!
Hehe. Biasanya orang yang mencetak waktu tercepat di kualifikasi itu kan yang dapet
pole position
pada sesi terakhir, tapi yang ini malah yang nyetak orang lain pas sesi kedua..
Yah, emang ga penting..
*ngumpet di belakang Jenni*
7 Oktober 2007
Yay! Perfect!
Hasil hari ini: Kimi, Abang, Felipe, Vettel, Button, Liuzzi, Heidfeld, Coulthard.
Akang? Saking semangatnya sampai lupa jalan masuk pit dan malah nyasar ke gravel...
*peluk-peluk Kimi*
Weks. Perebutan juara dunia sampai dua minggu lagi deh...
~*~*~*~*~*~*~*~*~*~*~*~*~*~
*pelototin Akang*
Udah dibilang jangan kelewat nekat.. Biarpun semangat juga jangan lupa jalan masuk pit itu di mana... Malah kelupaan. Terus, jangan sampe ban aus, ini malah dibiarin.. Gimana sih?
*timpuks Akang*
*kabur*
~*~*~*~*~*~*~*~*~*~*~*~*~*~
Btw, Kimi, itu beneran Jenni kan?
Kalau iya, pantas seorang Kimi Raikkonen tiba-tiba mukanya merah padam di atas podium..
*digetok*
*Indonesian mode OFF*
FORMULA ONE – CHINESE GRAND PRIX – SHANGHAI - REPORT
Hello! Welcome to Shanghai, where Lewis Hamilton may makes some new records in Formula 1 History. If he finished in front of Kimi and Alonso, or at least better than sixth position, there's no doubt, he's the new world champion. But if he failed, he must wait until the final race at Interlagos.
Yesterday, the McLaren driver took the pole, after a hot qualifying sessions. His teammate Fernando Alonso, qualified fourth, while Felipe Massa from Ferrari would start from third grid. The Ferrari star Kimi Raikkonen, who was the number one in first and second session of qualifying, would start the race from second place.
A few days ago, Hamilton and Sebastian Vettel was interrogated, along with Mark Webber, about Hamilton's driving in Japan last week, which causes Vettel and Webber to crash. I don't know what exactly they had said, but neither Hamilton nor Vettel is given a penalty, except for a brief warning.
And~ A few minutes before the race, the weather forecast came. It would be raining in about 6 minutes.
That's true. When the race started, the rain also started to fall. Lewis Hamilton had a clear start, followed by Kimi Raikkonen, while Fernando Alonso was battling with Felipe Massa. He passed Felipe, but a few turns later, Massa got his third place back. Meanwhile, Ralf Schumacher spun, but managed to rejoins.
The rain was still falling on lap 2. A Super Aguri and A Honda spun. They rejoined, however.
Lap 8, Vettel passed Kovalainen.
Lap 9, Again, Kovalainen was passed by another driver, now by Jarno Trulli.
Lap 12, Nico Rosberg was quite close to Jenson Button and tried really hard to get past him. Hamilton led by about 7,2 s ahead of Kimi.
Lap 13, Ant lost control of his car, and retired. Yellow flag was on.
Lap 15, the yellow flag only lasts for about 2 laps. Rosberg was battling so hard with Button, and now, he managed to pass Button.
Lap 16, Hamilton pitted for the first time and rejoined fourth. Kimi led the race.
Lap 18, Felipe pitted, rejoined sixth.
Lap 19,
Fernando Alonso, the running world-champion, also had a pit-stop. He was back to the race track behind Massa. Kimi set a fastest lap. Adrian Sutil spun, but managed to rejoins the race. In the end of the lap, Kimi had a pit stop and rejoined second.
Lap 20, Coulthard pitted.
It's already lap 22, and we had another weather forecast. While the track was drying, they said it would be raining again in 10 minutes.
A few laps after the weather forecast, Ralf tried to pass Liuzzi, but he collided and spun.
Lap 25, Alex Wurz set a new fastest lap.
Lap 26, Alonso was giving pressures to Massa and they was battling each other. The hard battle
was ended with.. Felipe going into the pit to have a pit-stop, and he rejoined sixth. In the meantime, Ralf Schumacher spun and retired.
Two laps after it, on lap 28, Adrian Sutil crashed and retired from the race. Again, yellow flag was on. Kimi was already 0,8 s behind Hamilton and started to giving pressures to Hamilton.
He was getting closer and closer, trying to get past Hamilton whenever he had a chance, but Hamilton retained the lead.
Lap 29, finally, Raikkonen passed Hamilton as the British driver made a little mistake, and the Iceman now led the race. Nico Rosberg spun and retired while he was battling against Kovalainen. Kovalainen also spun, but he rejoined.
Lap 31, Alonso was quite faster than Hamilton.
Lap 32, Hamilton tried to enter the pit for his second stop, but he oversteered, missed the pit lane's entry, and trapped in the gravel near the pit lane entry. He asked the marshalls nearby to help him push his car back on the track, but their attempts was useless. Hamilton forced to retired from the race.
Lap 33, Kimi pitted. Alonso also pitted soon after Kimi.
Lap 34, the yellow flag was off. Kubica now led, but he ran wide and retired after trying really hard to have his car back on the track.
19 laps remaining, Kimi set a new fastest lap. Alex Wurz pitted.
18 laps remaining, Kimi ran a bit wide through a corner. Alonso was slightly faster than him.
While the track was drying, a few drivers seemed to get a bit wide in some turns..
13 laps remaining, Liuzzi was now seventh, battling against Nick Heidfeld.
10 laps remaining, Kimi led by over 8 s ahead of Alonso. Liuzzi was still in a battle with Heidfeld.
7 laps remaining, the Iceman was over 9 s ahead of Alonso at that time.
5 laps remaining, Kimi set another fastest lap. Now he was 10 s ahead of Alonso.
4 laps remaining, Felipe Massa was getting closer to Fernando Alonso. He also set a new fastest lap.
Finally, the race ended with Kimi Raikkonen as the winner, followed by Fernando Alonso in second place and Felipe Massa in third place. Fourth was Sebastian Vettel, fifth was Jenson Button, sixth was Vitantonio Liuzzi, seventh was Nick Heidfeld, and eighth was David Coulthard. The fastest lap was set by Felipe Massa, and 6 drivers was retired, including the world-champion-to-be, Lewis Hamilton.
With this result, the drivers' championship battle will be continued until the final race at Brazil. Hamilton only needs to finish third, if either Kimi or Alonso wins the next race. Of course, he shouldn't retired, or there would be no new record in Formula 1.
We'll keep waiting for the final showdown.. If Hamilton wins the championship and managed to write down a few records in Formula 1 history, I just want one thing from him: Don't be over confident. And always be a kind-hearted man. Also, don't forget to always be yourself. It is different when you talk as a representative of your team and as yourself. Remember that fans will hate you if you become very arrogant just because you have become a famous world champion, and set some new records...
And.. to Kimi: Always be a shy, icy but kind Kimi Raikkonen. We love you that way.
Edit-to-add: Apparently, both Macca and Hamilton made a mistake during the race, with the decision of suspending the pit-stop time, when Hamilton tires were running out. And, that win is the 200th win for Ferrari.
Race Review
Drivers' Quotes
Press Conference
QUIZZES
Amon-Ra




Very generous, fruitful, people feel reassured around you, and willing to give their best.

Colors: male: yellow, female: orange
Compatible Signs: The Nile, Horus
Dates: Jan 8 - Jan 21, Feb 1 - Feb 11

Role: A god of the creation of the earth; the patron god of Thebes; and the king of all the gods of Egypt
Appearance: Form of a man, wearing crown with the sun disc and double feather plumes. Sometimes shown with blue skin.
Sacred animals: ram, goose



What is Your Egyptian Zodiac Sign?
Designed by CyberWarlock of Warlock's Quizzles and Quandaries



*stratches head*

Mysterious and a scholar, you are a member of the Tremere clan. You are pretty loyal to your clan, well, you sort of have to...especially since you are blood-bonded to most of them. You are the intelligentsia of the Camarilla and are fascinated with the occult. Possessing the ability to use blood for magic, many clans don't like to approach you. However, that is fine with you. You tend not to trust the other clans anyway.

What Vampire Clan Do You Belong To?

*stratches head - again*
You are The Moon
Hope, expectation, Bright promises.
The Moon is a card of magic and mystery - when prominent you know that nothing is as it seems, particularly when it concerns relationships. All logic is thrown out the window.
The Moon is all about visions and illusions, madness, genius and poetry. This is a card that has to do with sleep, and so with both dreams and nightmares. It is a scary card in that it warns that there might be hidden enemies, tricks and falsehoods. But it should also be remembered that this is a card of great creativity, of powerful magic, primal feelings and intuition. You may be going through a time of emotional and mental trial; if you have any past mental problems, you must be vigilant in taking your medication but avoid drugs or alcohol, as abuse of either will cause them irreparable damage. This time however, can also result in great creativity, psychic powers, visions and insight. You can and should trust your intuition.
What Tarot Card are You?
Take the Test to Find Out.
Yay~! Myu = Kaguya Houraisan!
*points to the picture below*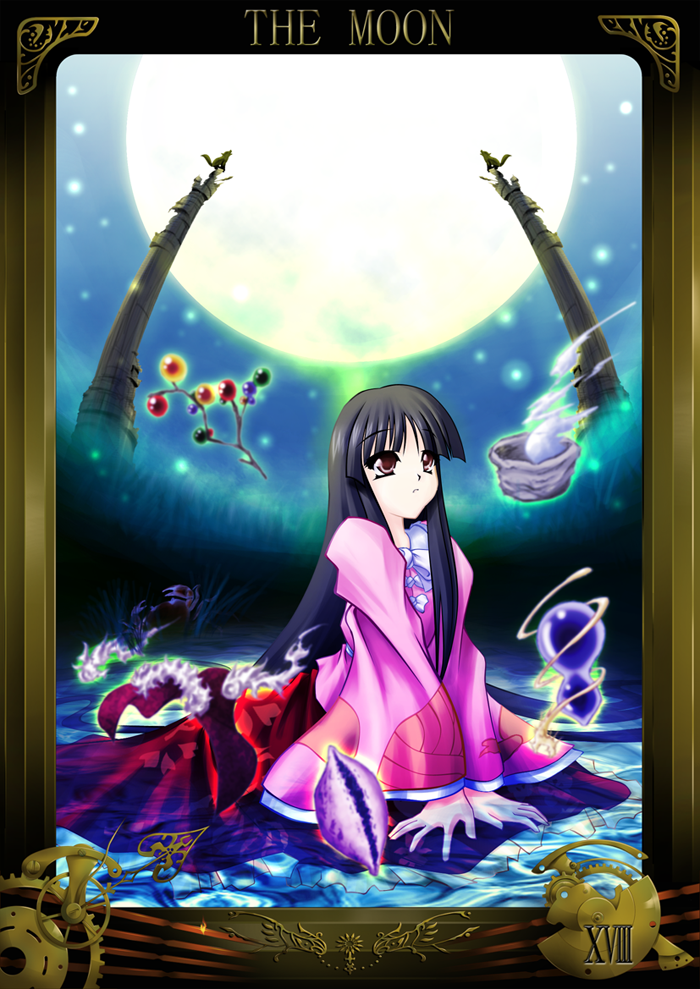 Nya~ See you!